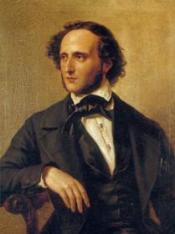 This spring, we are presenting two concerts featuring Mendelssohn's Elijah Part II, under the direction of Ira Spaulding.


Program Description

The Times of London, in reporting on the premiere of Mendelssohn's Elijah, said that "Never was there a more complete triumph – never a more thorough and speedy recognition of a great work of art." Within a short period of time, it was viewed as being the equal of Handel's Oratorios.


The Park Slope Singers presented Part I of Mendelssohn's Elijah last June. The oratorio, which recounts the events that take place toward the end of the first book of Kings in the Bible, begins with Elijah prophesizing that there will be not rain in Israel until Jehovah, the Israelites' god, says so. Why?


Elijah was a ninth-century BC prophet who lived in the kingdom of Northern Israel (Israel was two kingdoms at the time). Ahab, the seventh king of the kingdom, was married to Jezebel, the daughter of the king of Tyre (a city in present-day Lebanon). Tyre's citizens were polytheistic idol worshippers and. Jezebel convinced the Hebrew people to worship the idol of Ba'al, a nature god. Obadiah, although in charge of Ahab's household, nonetheless remained faithful to Jehovah, even hiding 100 of his prophets when Jezebel massacred the rest. The narrative of the first part of Mendelssohn's oratorio tells the story of Elijah's struggle to bring the Israelites back to the worship of their god. He is successful and part one ends with the destruction of the prophets of Ba'al and a deluge which ends the draught.


In Part II, Jezebel is angry about the death of the prophets of Ba'al and is determined to avenge them by killing Elijah. Fearful, Elijah flees into the desert where he goes to sleep under a broom tree. An angel of Jehovah wakes him, insisting that he eat to gain strength. He subsequently travels through the desert for 40 days and 40 nights. Still fearful, he hides in a cave until he finally hears Jehovah pass by. This, and the rest of Elijah's story, is told in Part II of Elijah.





Concerts

Bay Ridge: Friday evening, May 31st
Park Slope: Sunday evening, June 2nd




Concert Venues

St. Saviour's Church - at the corner of 8th Avenue and 6th Street ("F" train to 7 Av)

Church of the Good Shepherd - 74th Street & 4th Avenue ("R" train to 77 St)




Ticket Information
price - $15 ($10 for students and senior)

Tickets are available onsite 45 minutes before the concert or from chorus member.




---

You may wish to see a listing of music from past concert programs.